Crystal Moon Pendantz 🌙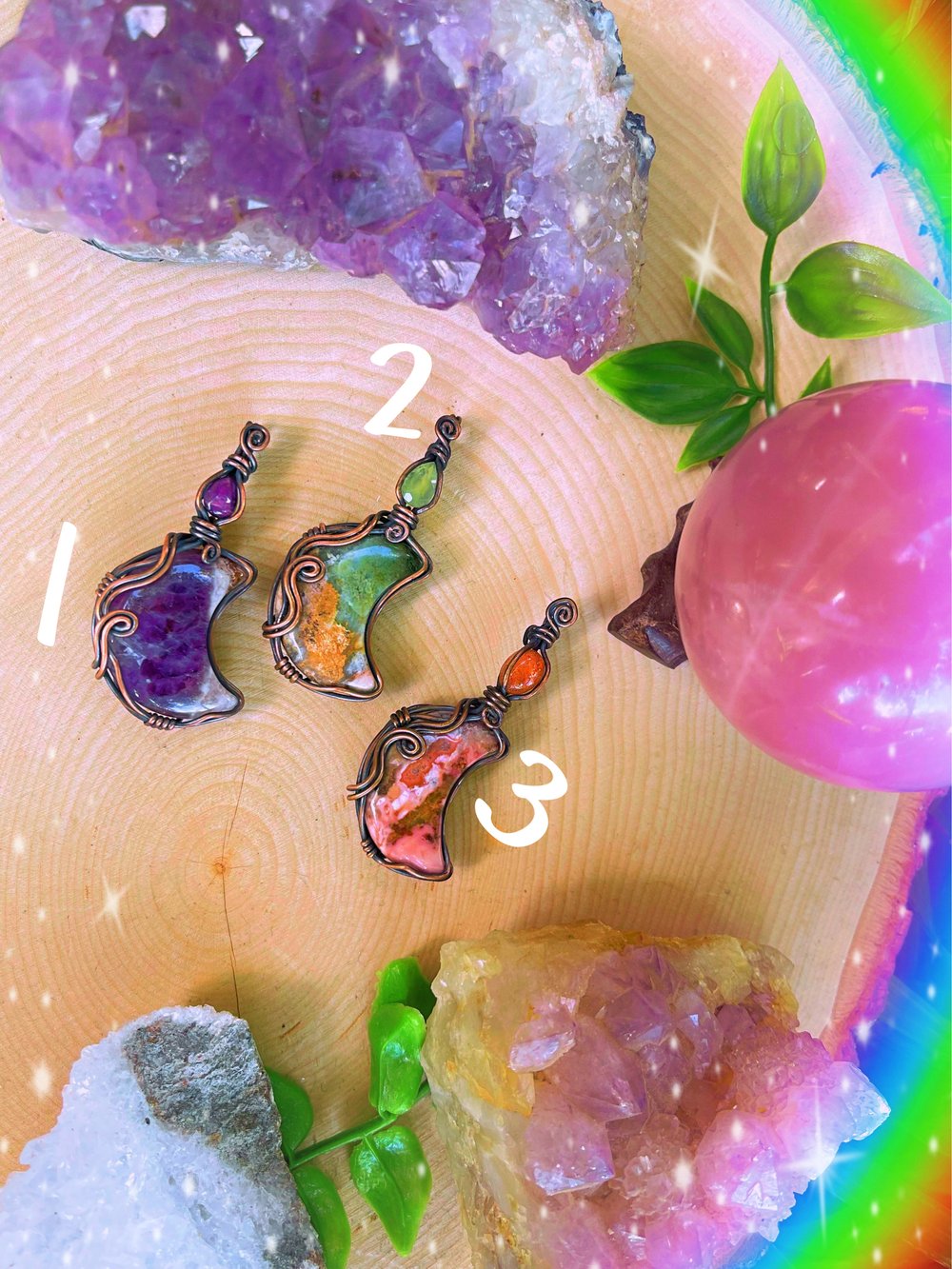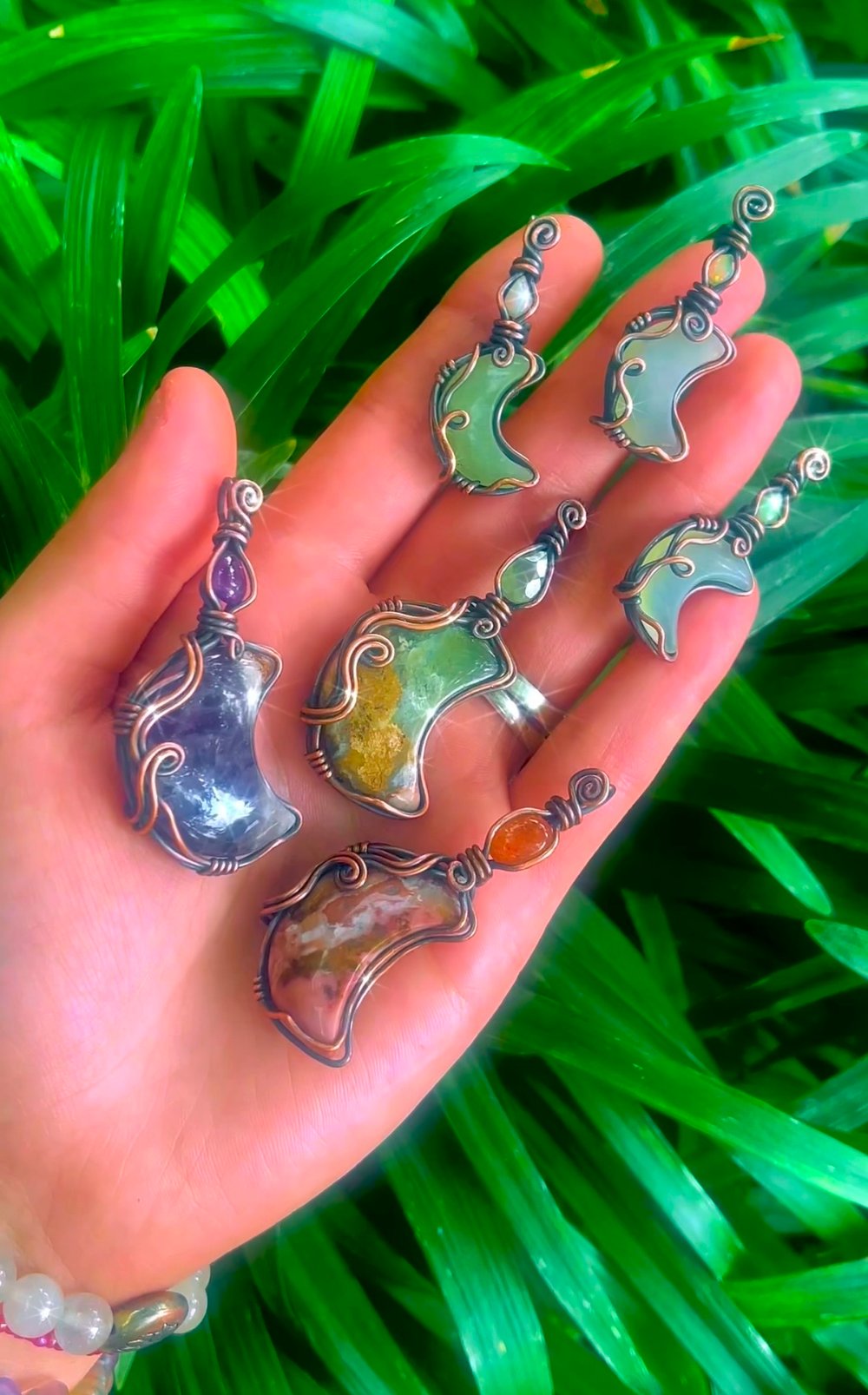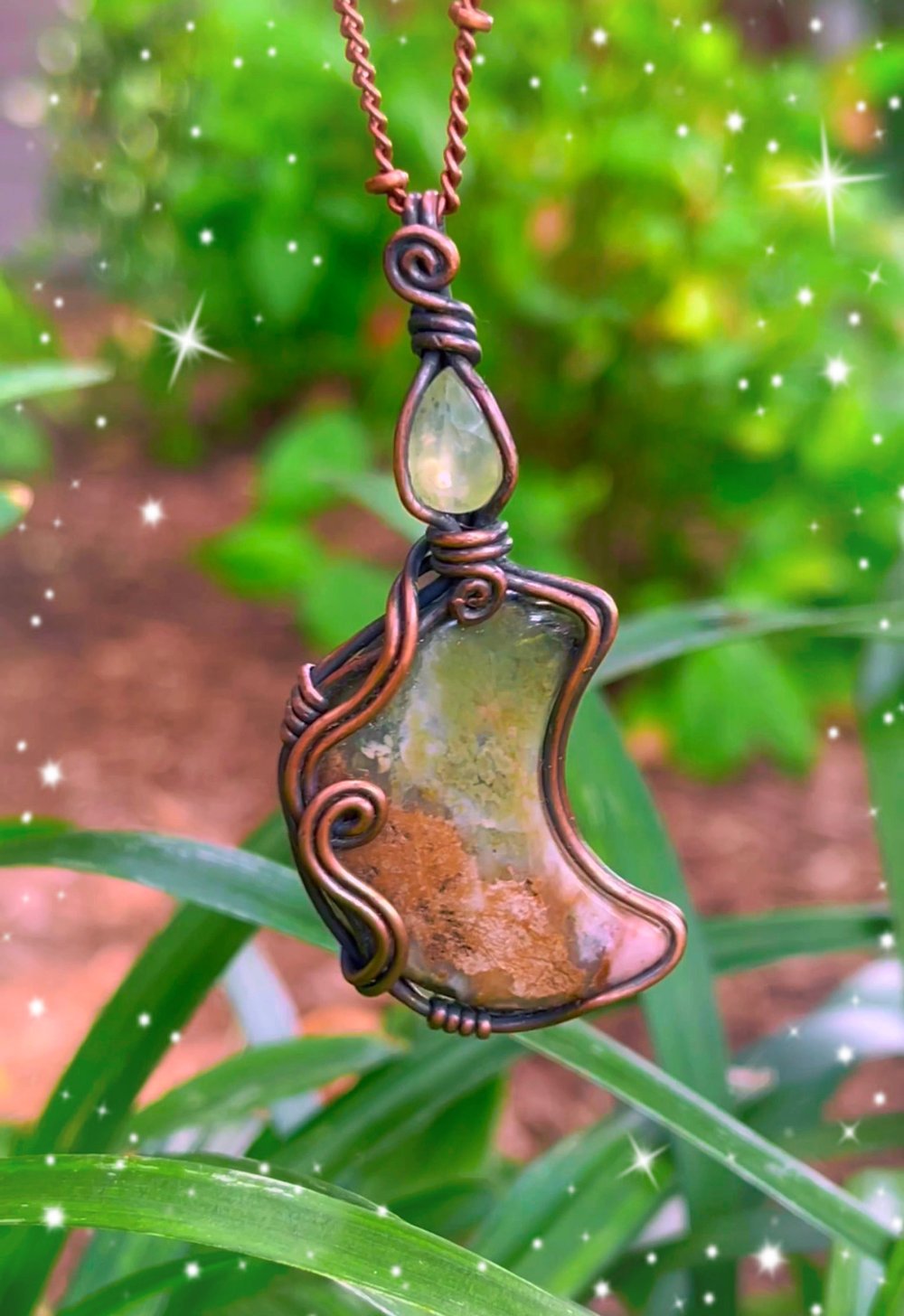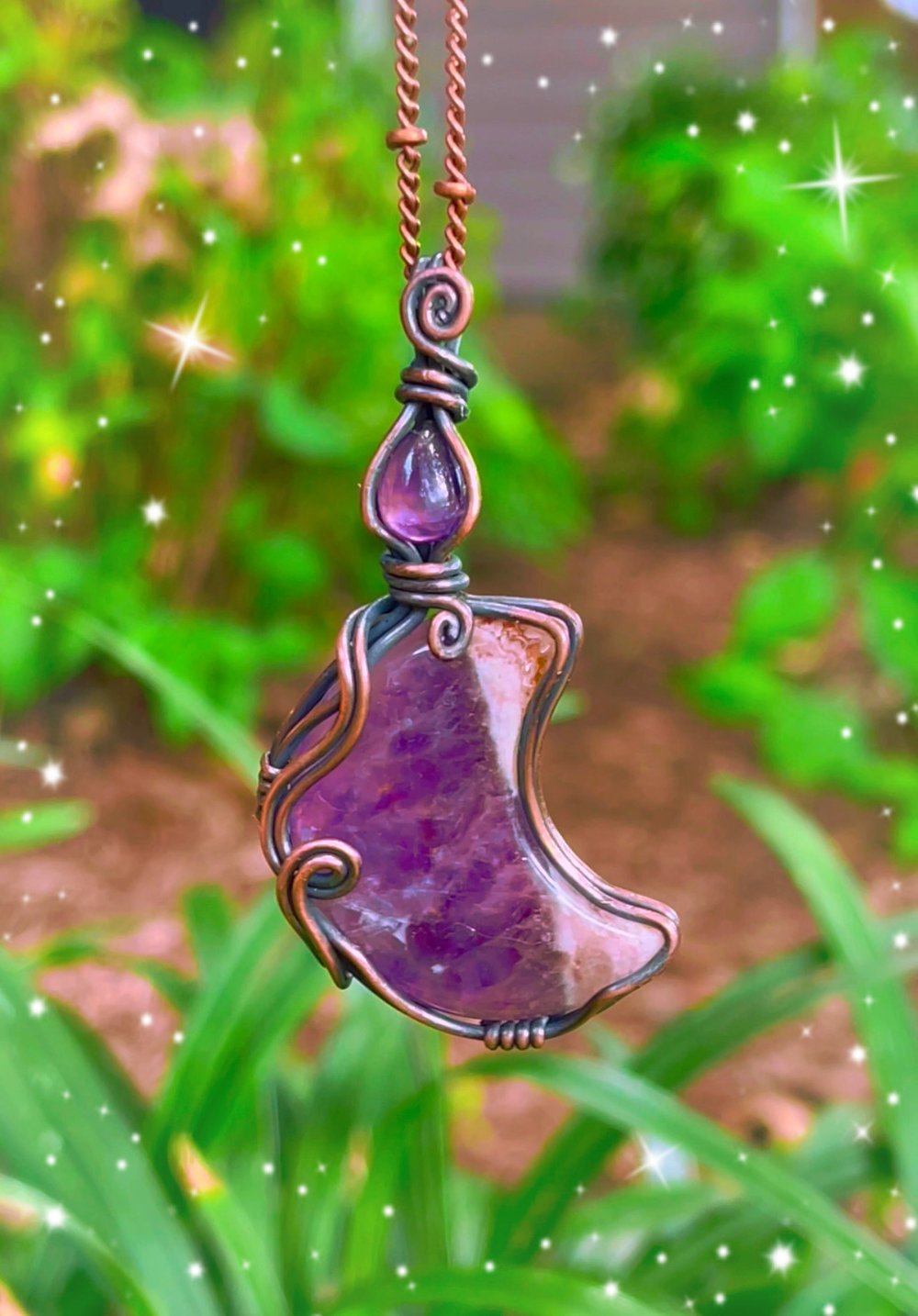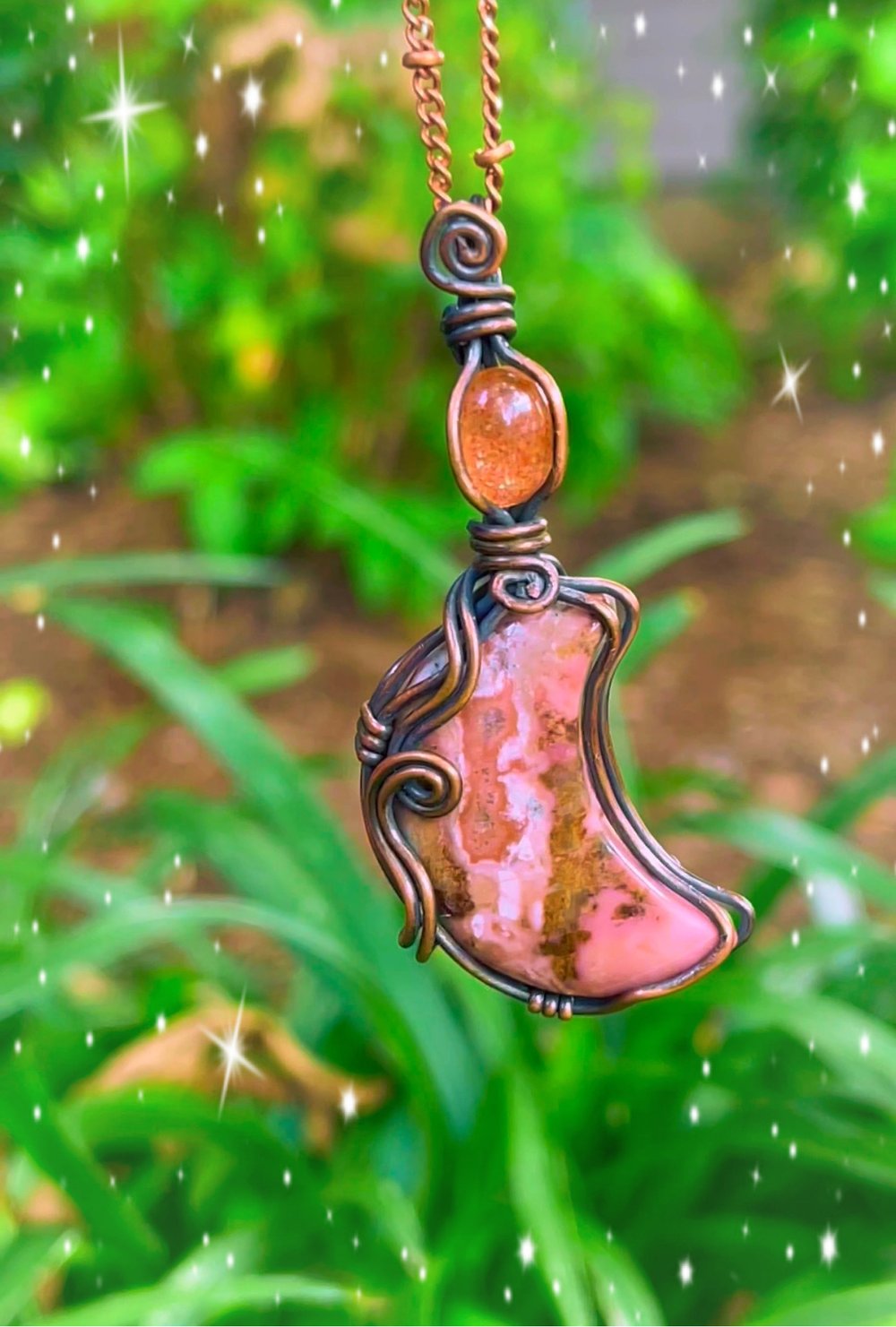 Completely handmade with patience + love ~ Comes with copper chain, crystals, and stickers! 🧚
𝐇𝐞𝐚𝐥𝐢𝐧𝐠 𝐏𝐫𝐨𝐩𝐞𝐫𝐭𝐢𝐞𝐬 𝐨𝐟 𝐀𝐦𝐞𝐭𝐡𝐲𝐬𝐭:
Amethyst is a powerful and protective stone.  It guards against psychic attack, transmuting the energy into love and protecting the wearer from all types of harm, including geopathic or electromagnetic stress and ill wishes from others.  Amethyst is a natural tranquiliser, it relieves stress and strain, soothes irritability, balances mood swings, dispels anger, rage, fear and anxiety.  Alleviates sadness and grief, and dissolves negativity.  Amethyst activates spiritual awareness, opens intuition and enhances psychic abilities.
𝐂𝐡𝐚𝐤𝐫𝐚𝐬: Third Eye | Crown 💜
𝐇𝐞𝐚𝐥𝐢𝐧𝐠 𝐏𝐫𝐨𝐩𝐞𝐫𝐭𝐢𝐞𝐬 𝐨𝐟 𝐂𝐡𝐞𝐫𝐫𝐲 𝐁𝐥𝐨𝐬𝐬𝐨𝐦 𝐀𝐠𝐚𝐭𝐞 + 𝐒𝐮𝐧𝐬𝐭𝐨𝐧𝐞:
𝐂𝐡𝐞𝐫𝐫𝐲 𝐁𝐥𝐨𝐬𝐬𝐨𝐦 𝐀𝐠𝐚𝐭𝐞 - All flower agates have extraordinary metaphysical properties, and the cherry blossom agate is no exception. The stone is a great encourager of self-growth. Like a seed that grows into a plant that bears flowers that mature into fruits, cherry blossom agates send positive energies to the wearers making them bloom to their full potential.
It erases all traces of fear and self-doubt which often keep us from reaching our maximum. Like a shield, it guards us from our own selves that hold us back and give us the required spurt we need to grow.
𝐒𝐮𝐧𝐬𝐭𝐨𝐧𝐞 - Sunstone is linked to luck and good fortune.  It clears and energises all the chakras.  Sunstone instills good nature, heightens intuition and allows the real self to shine through happily.  It dissipates fearfulness, alleviates stress and increases vitality.  Encourages independence and originality.  Especially helpful to those who have difficulty saying "No" to others.  Sunstone facilitates self-empowerment and independence.  It acts as an antidepressant.  Increases self-worth and confidence.  Encourages optimism and enthusiasm.  Stimulates self-healing powers.
𝐂𝐡𝐚𝐤𝐫𝐚𝐬: Root | Heart | Sacral | Solar Plexus 🧡
𝗛𝗲𝗮𝗹𝗶𝗻𝗴 𝗣𝗿𝗼𝗽𝗲𝗿𝘁𝗶𝗲𝘀 𝗼𝗳 𝗨𝗻𝗮𝗸𝗶𝘁𝗲 𝗝𝗮𝘀𝗽𝗲𝗿 + 𝗝𝗮𝗱𝗲:
𝐔𝐧𝐚𝐤𝐢𝐭𝐞 𝐉𝐚𝐬𝐩𝐞𝐫 - Unakite is a grounding stone that is considered to be a semi-precious stone, and an adapted form of granite. Unakite is comprised of pink feldspar, green epidote, and clear quartz. This stone brings lightness to our beings and assists us in finding inner peace and calm. It has a powerful transformational energy, if you are dealing with pain and hardship then use this stone in meditation to unearth that which no longer serves you. If you struggle with depression, insomnia or addiction issues then this is absolutely a stone you should have in your life.
𝐉𝐚𝐝𝐞 - Jade is a symbol of serenity and purity.  It signifies wisdom gathered in tranquility.  It increases love and nurturing.  A protective stone, Jade keeps the wearer from harm and brings harmony.  Jade attracts good luck and friendship.  It stabilizes the personality and promotes self-sufficiency.  Soothes the mind, releasing negative thoughts.  Stimulates ideas.  A "dream stone", Jade brings insightful dreams.  It aids emotional release, especially of irritability.  Jade encourages you to become who you really are.
𝐂𝐡𝐚𝐤𝐫𝐚𝐬: Heart 💚